Summer Athletics!
We had a busy June full of athletics in and out of school!
We sent a record total of 24 children using our minibus and lots of lovely parent helpers to Athletics tournament at Southampton Athletics Track. Superb team spirit as always was shown by all participants both those more and less experienced. We achieved overall 11th, 18th and 19th as a team and some absolutely superb results in our girls and boys 80m sprint, girls 150m, shot put and relay.
Year 3 and 4 started their summer season with a team relay cross country event at Ashley Junior School where our teams came a fantastic 11th and 18th out of 56 teams!! Great team work and gritty determination across varied terrain!
Our final athletics competition for the summer term was a 'Quadkids' competition at the fantastic track of Southampton Athletics club as part of the New Forest Schools competitions. Quadkids is the usual type of athletics competition that Under 11 children in athletics clubs aim towards comprising of a sprint, 600m middle distance run, long jump and vortex howler throw. It works like heptathlon and decathlon earning points for their performances which convert into UK Athletic awards.
Our two teams came 10th and 16th and individually really did themselves proud achieving from Step 4 right up to Bronze level award despite the rain that decided to appear half way through! Particular mention should be made of the way the team cheered and supported each other throughout the competition.
Well done to all of those that competed and all of you that have come to athletics club throughout the year! Keep enjoying running, jumping and throwing! Watch how the adult athletes do it at the World Para Athletics and World Athletics Championships in London this summer!
11.3.17 Year 3 and 4 New Forest Sportshall athletics. 16 year 3s and 4s gave it their all as they represented Bartley this Saturday. Many of the team were taking part in their first athletics competition and achieving new personal bests. Thank you so much too for those team members who had stepped in at short notice and gave it a really good go. Really proud of what you all did and how quickly you have learnt some of the key techniques in athletics. House points definitely on their way to all of you! Enjoy seeing some of the action shots and team photos from the competition below!
8.3.17 Year 5 and 6 New Forest Sportshall athletics. Super performances shown by our two mixed year 5 and 6 teams. Sprinting as fast as the wind and an amazing dip by Archie for his finish. Determination and team spirit was the name of the game as each team member worked to improve their personal bests at running, jumping and throwing events and win as many points as possible for the team. Particular moments to savour were Peggy storming into 1st in her race, Kate's determination to catch the person in front of her, George's preparation for his start, Oliver's power and Connie's dedication to the team even when not feeling 100%. House points all round to all the team!
10/2/17 Year 5 and 6 New Forest Schools Cross Country tournament
17 year 5 and 6s braved some increasingly cold weather to tackle a cross country course at Gang Warily with over 400 other children. Not one step was walked, everyone pushed themselves with some superb support from family and team members alike. Everyone achieved places and results they should be proud of. Our star performer was Kate Jeffery who won the Year 6 Girls competition by an impressive margin from the rest of the field. Well done to Kate, a gold medal winner and to all the teams. Special lunch treats were awarded to the team as was promised for any top 5 results!!
28/6/16 Year 4 Quadkids athletics tournament
A team of eight year 4s furthered their athletics experience in QUADKIDS at Southamption athletics track. Quadkids is the usual format used for under 11s competing in athletics clubs externally and consists of a sprint, middle distance run, long jump and the vortex howler throw. Each child that competed reached a certain Quadkid level based on their performance and will be awarded certificates in year group collective worship.
On a team level we reached a valiant 15th position out of 24 teams. Our star performance this time was from Peggy Tooley, who missed out on matching the New Forest Schools record for the meeting in long jump by just 1cm reaching 1.89m! However, her overall performance gave her a very well deserved 2nd place and silver medal out of all the girls competing.
Well done to all those in the team that competed, many for the first time, learning how the weather can change very quickly from sun to rain and that the events go on regardless!! Many thanks to our helpers for making sure we were well prepared and looked after at the event!
15/6/16 Year 4 Cross Country Relay
2 teams of 6 eager year 4 students showed excellent teamwork, drive and determination in a New Forest schools team relay cross country and through a wood at Ashley School in New Milton. The practice sessions around our school field dozens of times paid off with them finding this distance easy! We ended in 11th place out of approximately 40 teams. Great team spirit Bartley! Well done.
14/6/16 Totton Tennis Tournament Year 5/6
Following an intense inter-school tournament, 12 students represented Bartley today at what was a VERY intense tournament. Our B team managed to claim the Silver medals with our A team achieving 4th place and C team 8th.
Well done to everyone who competed today and thank you to the parents who supported, it was a great (but exhausting) day!
12.04.16 New Forest Schools Indoor Athletics Sportshall Year 5 and 6 - Round 3 of 3
We are Division 2 champions in the third and final round of a hotly contested championship! Well done to all the team that took us to this position with it all going down to the final relays both photo finishes! Fantastic team and individual performances rounded off by some fun team photos!
We will be supporting Sport Relief this year as a school by holding a fundraising day on 18th March. There will be charity bands available to buy from Monday 29th February for £1. On the day we will have fun activities, a cake sale and even some teachers doing sport too! There will also be a sponsored mile that the whole school will walk or run! Keep your eyes peeled and pockets open for sponsor forms coming home soon!
02.02.16 New Forest Schools Indoor Athletics Sportshall Year 5 and 6
It was round 2 of 3 for the above competition. Some super speedy sprints were shown by all of the team including exciting girls and boys relays against some of the local schools. Together with speed bounce, long and triple jump and indoor shot put, the team gave it all they had. Go Bartley! 1 more round to go!
Hope you enjoy our team photo of Bartley Bolts and Farahs!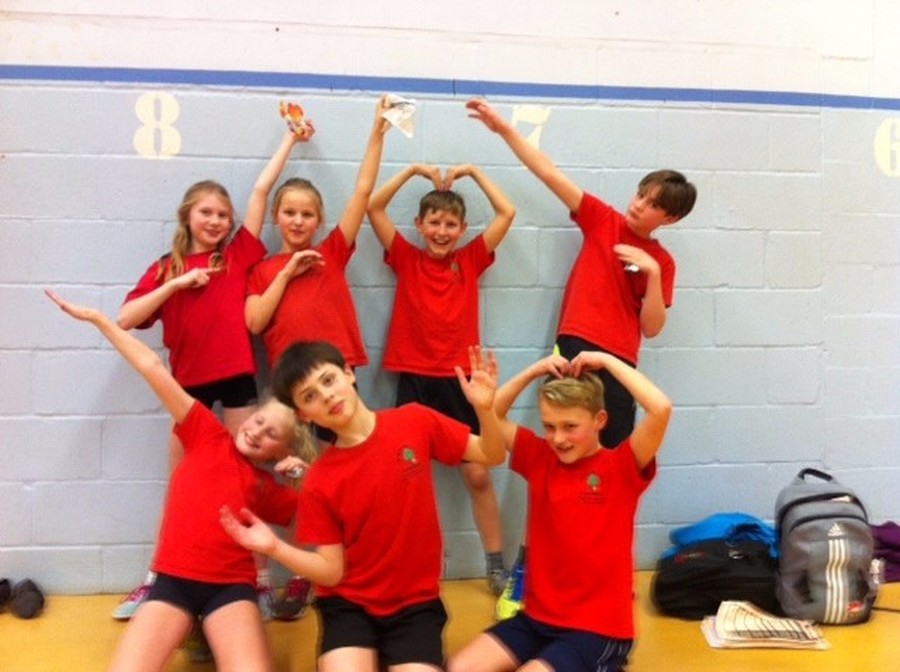 23.01.16 New Forest Schools 'Sportshall' Year 3 and 4 competition
A terrific team of year 3s and 4s fought valiantly and gave it their all on Saturday morning against a mass of other schools. The indoor athletics competition was full on with 1 and 2 lap sprints, bouncing, jumping and throwing! We are still quite inexperienced so18th out of 24 is commendable. In fact, the team should be very proud of what they have achieved as they put everything they had learnt into action. In addition, a super team spirit shown especially during the relays!! Well done! Next events coming up - cross country and stage 2 of the year 5 and 6 'Sportshall' competition.
23.11.15
A mixed year 5 and 6 team of athletes took part in the first of 3 Indoor 'Sportshall' Athletics with 9 other schools. Sportshall is a quick paced mixture of individual and relay running races, jumping and throwing events.
Everyone put in a fantastic effort against some incredible athletes. So far we are joint 5th in the girls competition and 8th in the boys but for the latter literally just 5.5 points away from 5th place too. Next event takes place in February. Athletics lunchtime club continues for all year groups on Monday lunchtimes.
15.10.15
Congratulations to the year 5 girls and boys cross country relay teams that took part with 30 schools and a record 450 athletes which created some real jostling during handovers!
Our girls came 17th and our boys 66th. However, it was great to see several of our athletes being awarded wristbands for 'Determination'.
8.10.15
Wow! What a game! In their second match this week, the year 6 boys played amazingly. They were 2-1 down for most of this difficult match against Blackfield, but with 30 seconds left on the clock Ben 6C scored an absolute screamer to end the match 2-2.
7.10.15
The year 6 boys football team played their first league game of the season today against Foxhills. A solid 5-0 win has got the season off to a strong start. Well done boys, roll on tomorrow!