Be a Mathematician
...or maybe that should be, 'Be a Thinker', or 'Be a Tinkerer', or 'Be an Explainer' or 'Be a Reasoner'!
Mathematics is such a rich and exciting subject, full of riddles and challenges. In fact, it's such an important and wonderful area of learning, we have a whole section of the site devoted to it - the Maths Zone - which contains many links and suggestions. This is the place to go for home learning suggestions as well as further guidance, including videos, explaining how we learn mathematics at Bartley CE Junior School.
Whilst - from time to time - Y5 specific links will appear on this page, we aim to use this page to showcase some child-produced examples of the fantastic skills our learners are developing across the year. In particular, we aim to develop children's ability to make connections and be creative in their approach to mathematics through the development of their reasoning skills. This may also involve the use of bar models to solve more complex problems.
"Bar what?" You say.
Well, more information may be found here and opportunities to explore and practise using them may be found here or by clicking on the image below (FYI - 4th Grade is equivalent to Y5):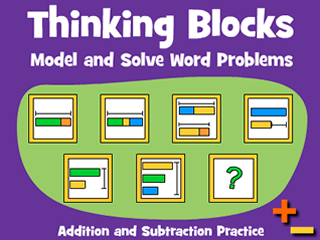 Of course, if you would love to know more, please feel free to contact us to make arrangements to discuss them further. We think they are great!