Hooke Court Residential
Once again, Year 5 are very much looking forward to visiting Hooke Court, following many successful and memorable visits over the years. Here you will find some basic information about our upcoming visit and, eventually, some pictures and reports from our time there.
Whilst we can't post visit dates on the website, these will be communicated again through ParentMail along with any payment information.
Why should my child go to Hooke Court?
The visit offers the children another opportunity to further develop their knowledge and understanding of our curriculum topics as well as their interpersonal skills. The purpose of the residential is as follows:
to develop their knowledge and understanding of Viking and Anglo Saxon Life;

to develop their independence;

to develop their social interaction skills;

to promote team building skills;

and to stimulate learning in different environments.
Where is Hooke Court?
Located just 11 miles from the Jurassic Coast in the small village of Hooke in rural West Dorset, Hooke Court Dorset is a magnificent field study centre in which to stimulate and educate children.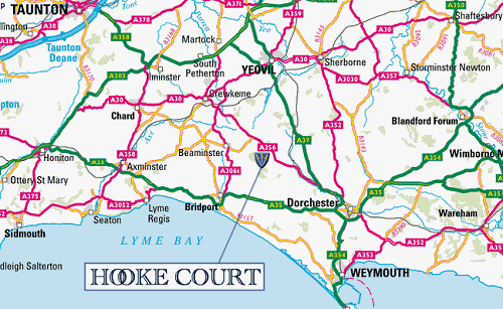 KEY FEATURES
Grade II listed 14th century manor house.

Stunning historical, rural location that brings learning to life.

Accommodation for up to 190.

Camping facilities in the summer months

Twenty-four acres of landscaped grounds and woodlands.

Playground, playing fields and low ropes course.

All groups are fully catered for and accommodated in their own area.
What will the children be doing while they are at Hooke Court?
The children will take part in a number of Historical activities based around the anglo-saxon/Viking era and some more active team building activities.
Anglo Saxon/Viking Activities

Life in a Saxon Hut

Anglo-Saxon Trades

Viking Saga

Building using wattle and daub

Team Building

Bridging the moat
I want my child to go but I'm not sure we can afford it.
We know how difficult it can be sometimes to afford all of the things you would like your child to do! If you do foresee an issue, please contact Ms Richardson in the office who would be happy to discretely discuss your options.
If your child is already in receipt of free school meals (FSM) then they will eligible for partial funding. Again, contact Ms Richardson for further details.
Can I help?
We love having parent helpers on our school trips and residentials! If you are interested in joining us, please contact any of the Year 5 staff to register your interest.
Please be aware that, sometimes, we can have a lot of volunteers (which is great) but it does mean that we can't always take everyone who kindly volunteers. Also, it is important that you hold a current DBS certificate (issued through our school office) at the time of the residential.
Will my child's dietary needs be catered for?
All meals - apart from lunch on the first day (children will need a packed lunch) - will be catered for.
A menu will be available nearer the time. However, Hooke Court are extremely good at catering for dietary requirements – please let us know on the form if your child has any!
Where can I find more information?
Please feel free to contact any member of the Year 5 team with any of your questions. You might also want to check out Hooke Court's own website: https://www.hookecourt.co.uk/