Mrs Andrews, Mrs Read and Mr Walter would like to welcome you to our Year 3 page.
On this page you will be able to view our year so far, find home learning activities, keep up to date with upcoming events and look at some of the work we have been doing.
Click the links for shortcuts to...
Year 3 Minstead Study Centre Trip - Autumn 2019
The children and adults recently enjoyed a fantastic trip to Minstead Study Centre. We learnt all about the natural environment, taking part in a variety of great learning experiences.
Children enjoyed the opportunity to feed the sheep, discussing the farming practices of people in the Neolithic Era. We were all given spirit names written on wood to remind us of the wonderful, natural environment we enjoy here in the forest, discussing the importance of respect for nature. Later, we tried using natural dyes to colour wool the way that people in the Stone Age might have done. We even learned to build structures out of woven willow branches, later getting messy applying clay to complete the walls!
Finally, we gathered around the warm fire in the roundhouse to hear fantastic, atmospheric stories, a perfect end to a busy day!
Autumn Term 2019
What a wonderful start to our Autumn Term! We are delighted to welcome the new cohort in to our Bartley family! The new Year 3 children have settled brilliantly and have enjoyed a successful transition in to Bartley. The Year 3 team and the rest of the school staff are all working together to support the children, who have shown they are quickly adapting to being here with many proud achievements already having been accomplished!
We kick started our learning with our 'Brilliant Bartley' topic. We've enjoyed a lovely morning walk, with teachers, TAs and kind parent helpers taking our new Year Threes around the local area. We learned about the history of the New Forest area, Bartley School and other local buildings and features.
This leads nicely in to our next phase of our learning; our Year 3 topic: Buildings. Just after half term, we will be having an exciting 'hook day' for the children, with various hands-on activities to fire their imaginations!
We also look forward to our upcoming trip to Minstead Study Centre where we will learn more about buildings and life through the ages; among other activities, building a wonderful round house out of willow branches! Check out their website here - you can even take a 'virtual tour'! Link to Minstead Study Centre website
We will soon be posting photos of these and other events through the year so watch this space!
Our local walk around the area of Bartley C of E Junior School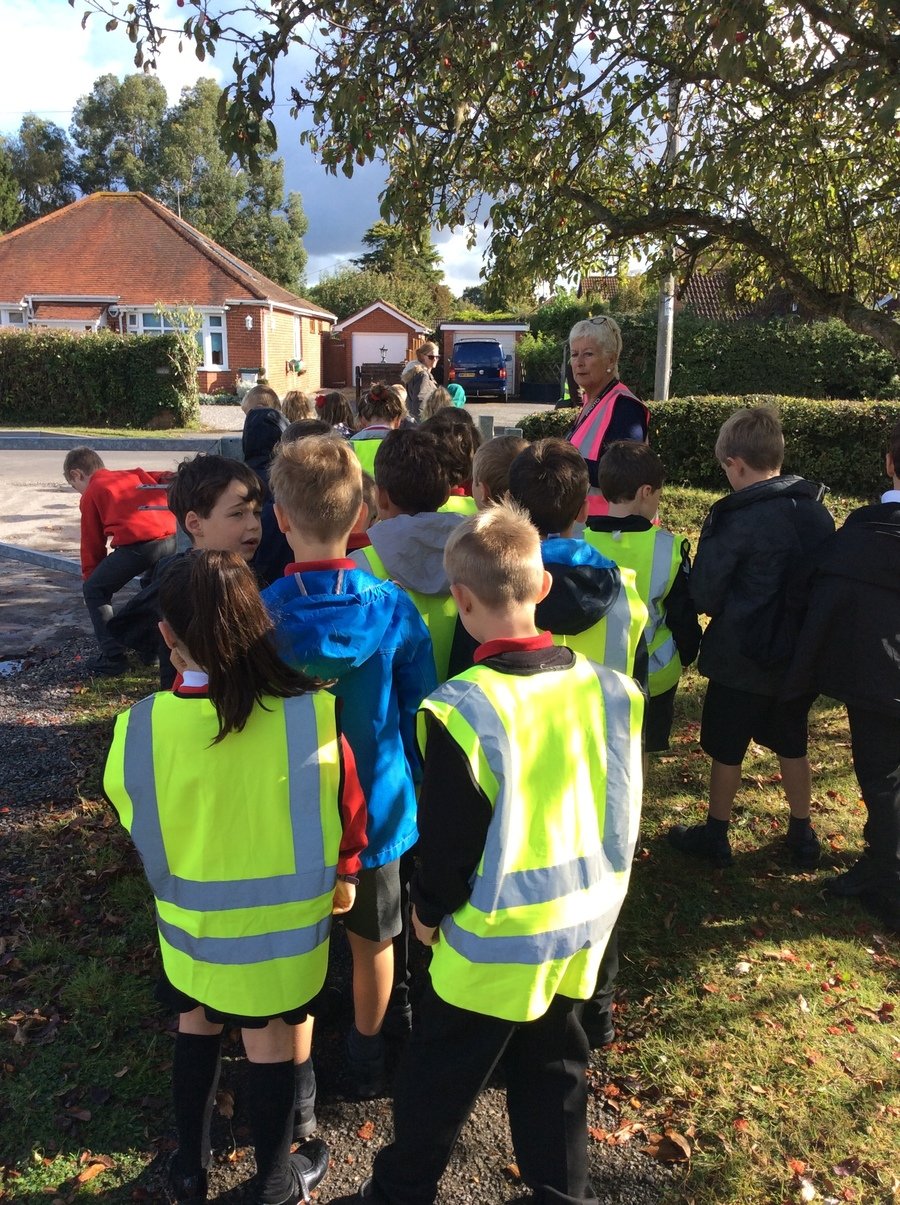 Spring Term (2018-19)
It's hard to believe that we have completed one whole term already this year! With the year group feeling properly settled and off to an amazing start, we still have lots to look forward to. Thank you for all your hard work and support so far - year 3 really is the most fantastic team of staff, children and parents!
On this page you can browse some of the incredible moments from our previous Year 3's. What are you looking forward to this year? Are any of your friends or relatives in these photos? Can you find inspiration for your Roman Day costume?
Avon Tyrrell (2018-19)
In May last year we enjoyed the most amazing visit to Avon Tyrrell. Can you spot anyone you know in the photos below? We learned loads about habitats, mini-beasts, team building and how to get along with each other. And it was so much fun. The year 3 team would like to thank every child for their exemplary behaviour, kindness, cooperation and sense of fun - it really was an incredible trip!
Bartley Book Club (2018-19)
Coming soon! Our Year 3 and 6 book club will soon be up and running at lunchtimes through the week. Our year 6 team are looking forward to supporting reading in Year 3 and sharing the enthusiasm for reading right across the school.
Alan Langford (2018-19)
Local artist, Alan Langford, visited Year 3 last year to teach us some techniques for sketching and painting using watercolours. He gave us lots of tips about the materials and process of producing a painting. While he worked, the children used his picture to inspire words and phrases that they could use in their story writing to describe the dragon and knight.
Roman Day (2018-19)
Year 3 had a fantastic theme day, learning all about The Romans. We learnt that they are incredible show offs, liked to look fat as a sign of their wealth, and how an archaeologist works to find out all of these things. Thank you to Gemma from Trench 1 for her fantastic workshops!
Year 3 visited Minstead Study Centre in 2018 to learn about early settlements from Stone Age to Iron Age. Look at our photographs below and a report of the day written by Emma and Bella.
Minstead Trip
Our Minstead Trip (2018)
Report by Emma and Bella
Our first school trip in Year 3 was to Minstead Study Centre. We had so much fun doing all the activities that Chris, our instructor, set up for us. At one point, we split into our four house teams (Phoenix, Griffin, Minotaur and Centaur) Together, we made round houses out of long willow and when the willow ran out we used special tools to cut some more. We had the opportunity to go in a real roundhouse where we had a campfire and a story. Earlier in the day, we were given names from Stone Age myths and legends. I was Dagda, the goddess of life and death. We looked for rocks in the river that could be used to chip into flint, just like in the Stone Age. When we walked though the river, we had to use a water password for the water goddess.
Whilst creating a time line, some donkeys came to visit us. They had a look and then went on their way. We thought they were great!
We had lots of fun at Minstead and I think everyone should go there - we highly recommend it, but definitely wear wellie boots!
Buildings - Hook Day! (2018)
Our Year 3 curriculum theme for this year is Buildings. We held a 'hook' day last year with lots of fun activities to introduce our topic. In this activity, the children had to make a tall, free standing structure from newspaper!