Be a Mathematician
This is the place for year 5 home learning suggestions as well as further guidance, including videos, explaining how we learn mathematics at Bartley CE Junior School.
Scrolling down will reveal links which particularly support our current and past units to support home learning. These include games, activities and instructional videos. There will even be the chance to win $1 million dollars when we start our work on multiplication and division! Yes, you read that right; $1 million dollars!
A further note:
We also aim to use this page to showcase some child-produced examples of the fantastic skills our learners are developing across the year, from time-to-time.
In particular, we aim to develop children's ability to make connections and be creative in their approach to mathematics through the development of their reasoning skills. This may also involve the use of bar models to solve more complex problems.
"Bar what?" You say.
Well, more information may be found here and opportunities to explore and practise using them may be found here or by clicking on the image below (FYI - 4th Grade is equivalent to Y5):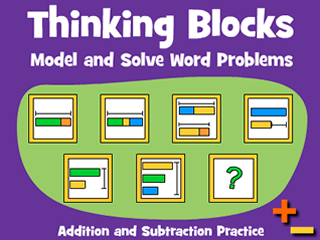 Of course, if you would love to know more, please feel free to contact us to make arrangements to discuss them further. We think they are great!
Current Topic: Multiplication and Division
We have been learning about factors and multiples...
factor x factor = multiple
...as well as prime numbers. See the video below for further explanation:
Check out the bonus task below to find out more about prime numbers and the chance to win $1 million!
We have also been finding out about square and cubed numbers. Here is an example of some of our thinking from our working wall: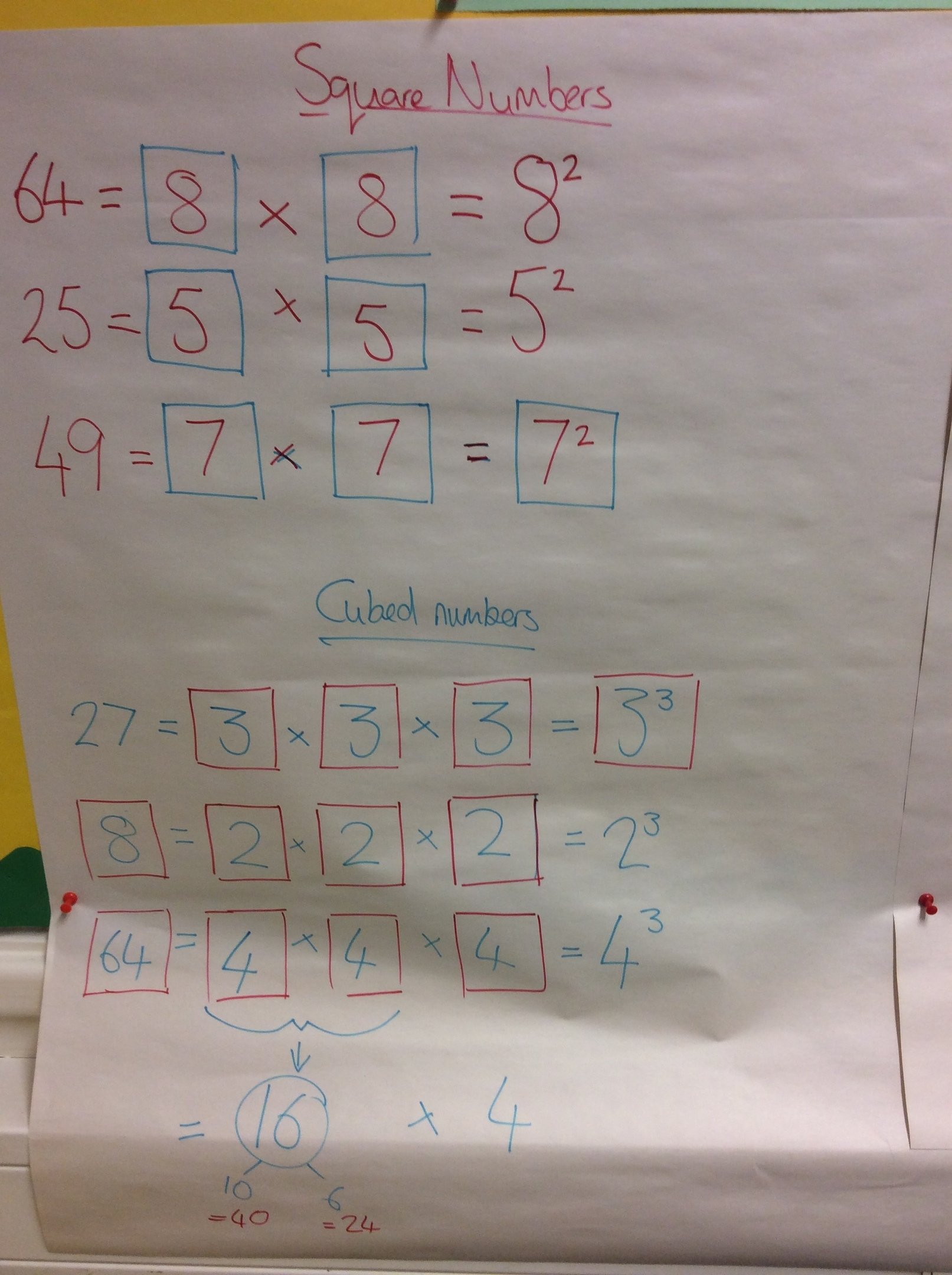 Over the past few weeks, we have been exploring multiplication and division of 3 and 4-digit numbers by a 1-digit number and multiplying 3 and 4-digit numbers by 2-digit numbers; all of which rely on good recall of multiplication facts (so we don't gum up that working memory!).
Here are some examples of our methods from our working walls and children's books: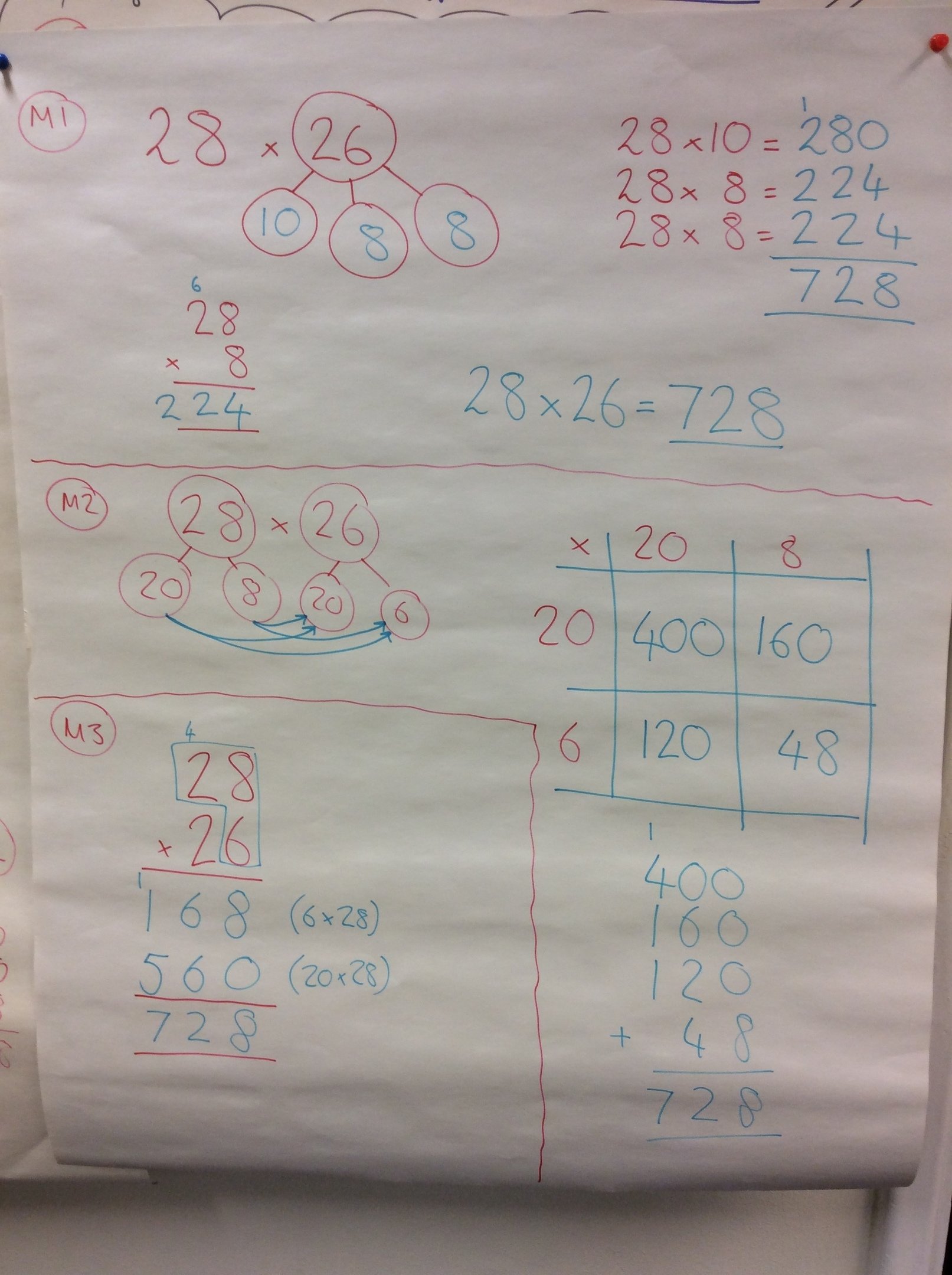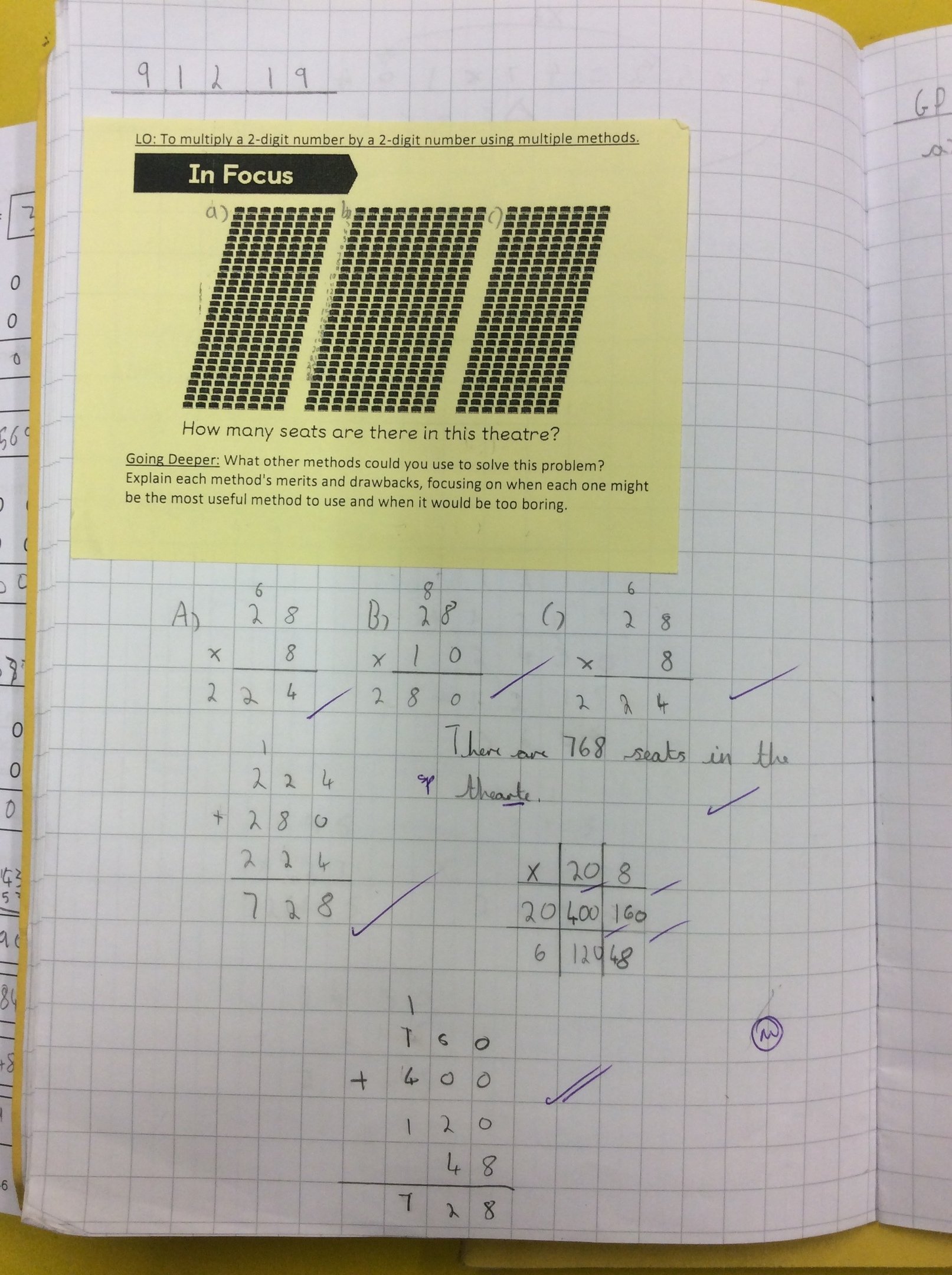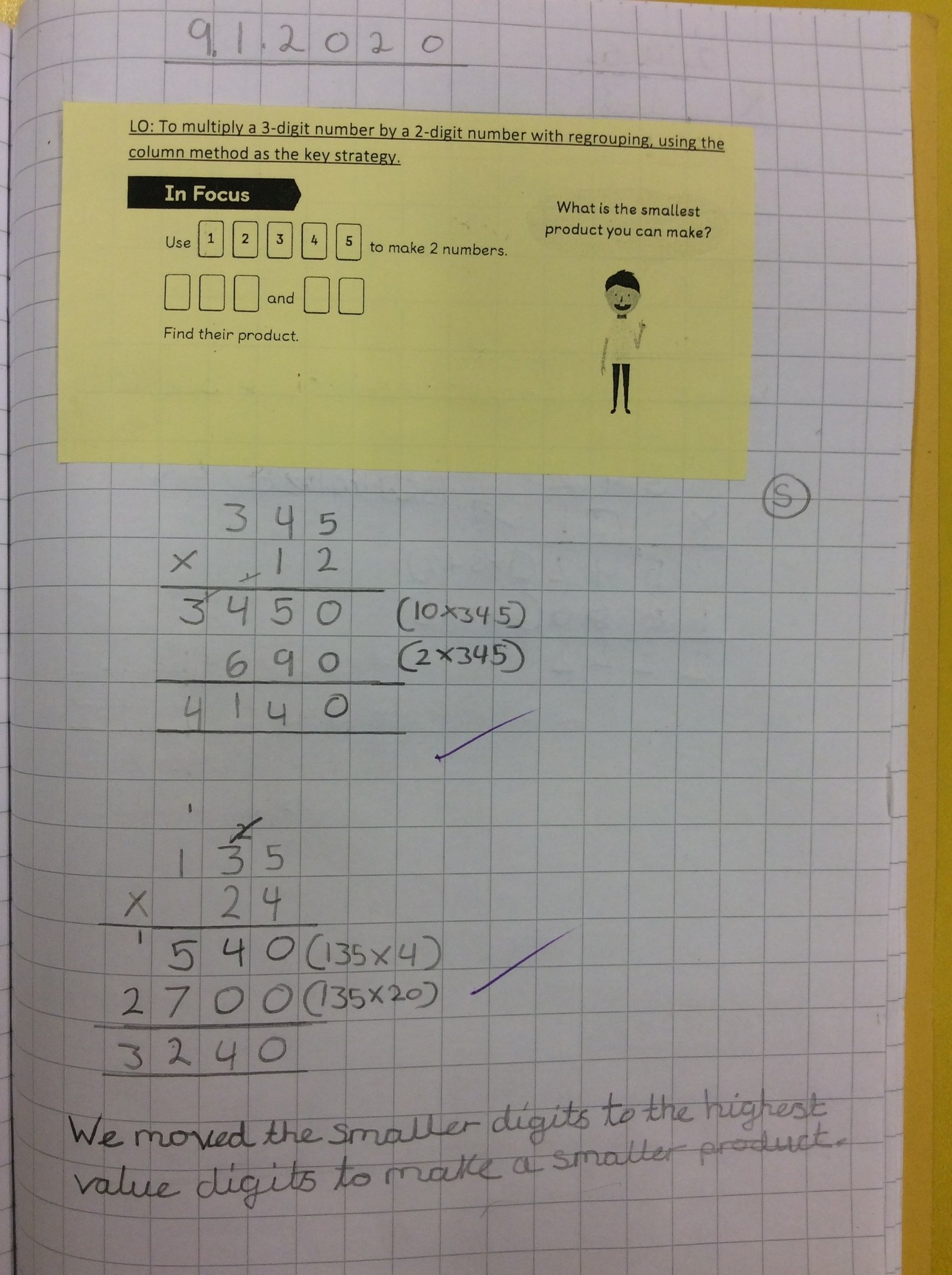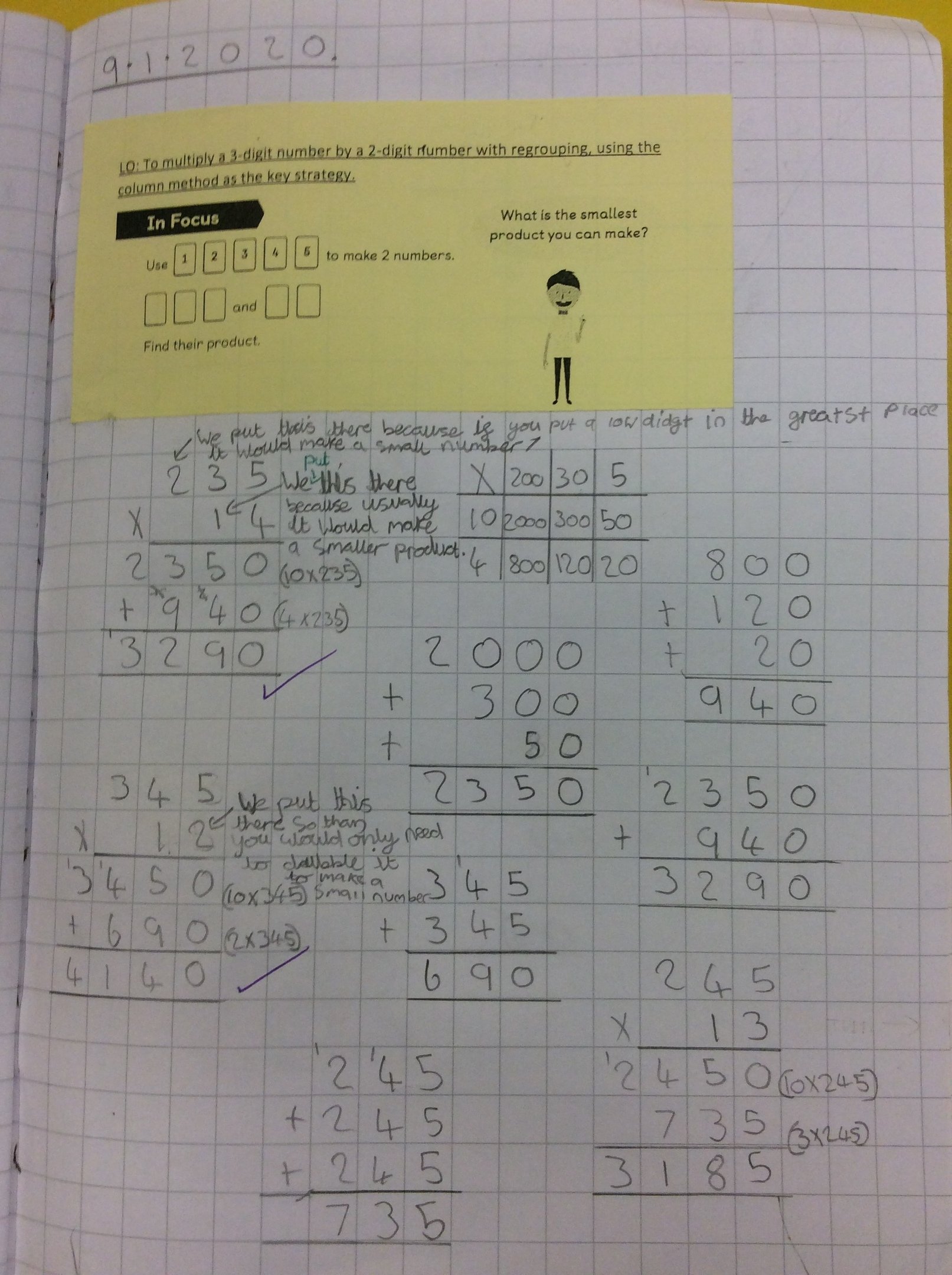 To be able to use these methods efficiently, it is important to keep your times tables recall sharp. You can help do this by playing some of the games below (right-hand column).
Now and Next:
We are now working on our understanding of division, starting by dividing by multiples of 10, 100 and 1000, before we move onto finding out more about fractions, decimals and percentages. We hope to update the page with examples from this, soon.
Number Skills Practice
It is important to keep our key number skills sharp to support our work on large calculations and, to do so, we have been playing some games in our afternoon Maths Meetings. Here is a growing list of these games and activities for you to enjoy at home:
Strike It Out
A great game for developing slick addition and subtraction calculation is Strike It Out. Here is a helpful video to explain how to play it:
Notes for grown-ups
Strike it Out offers an engaging context in which to practise addition and subtraction, but it also requires some strategic thinking. It is easily adaptable and can be used co-operatively or competitively.

Easier version: try starting with a number line from 0 to 10 instead.
Harder version: try using multiplication and division as well as addition and subtraction. Children could suggest different number lines that they could use: maybe longer number lines, or ones involving decimal or negative numbers.
Totality
We love Totality! A simple way to practise addition facts and number bonds. At a higher level, you can begin to think strategically by considering several moves in advance (a bit like chess!). Here is a helpful video (can you work out the rules by watching the video with the sound off first):
Notes for grown-ups
This game is designed to help children practise number bonds and addition. There is also an opportunity for thinking strategically by working out what will happen several moves in advance.

Easier version: instead of playing against each other, you could work together to try to make 20.
Harder version: discuss what the shortest 'string' of numbers would be that adds to the total. How many different 'strings' of numbers add to that total?
Countdown
Yes... it is what you think, grown-ups!
Based up the popular television show, this is a great way to challenge your mathematical fluency and thinking. Play on your own or challenge a brother, sister, cousin, friend or an adult. Just click on the link below to play: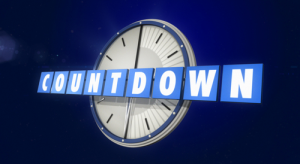 Times Tables Fluency
Being able to quickly recall times tables is the key to efficient and stress-free calculation. Therefore, it is to our benefit to practise our times tables knowledge regularly!
Boring, huh?
Well, you'd be forgiven for thinking so but we have a solution to that!
To help us become more fluent multiplication experts we will be introducing some great and - most importantly - fun games to play which can also be played at home. Give them a go.
You should also have a go at 'Multiverse' on Mathletics for a fun way to practice multiplication using the context of 'Space'.
Multiplication Game 1
Our first is: Dice Tag Multiplication from the wonderful Mathsticks.com. Please visit them for further exciting free and paid ways to help your child improve their number sense.
Multiplication Game 2
Another great game is the Multi-Race Game, a 'Track' game which encourages children to practice multiplication problems. With this resource there is a very strong focus on identifying factors, and on the accurate use of vocabulary. Again, this comes from the very wonderful Mathsticks.com.
Multiplication Game 3
This is a great challenge from the wonderful folks at NRICH, called 'The Factors and Multiplication Game'. You can find supporting resources here and, if a slightly easier version is needed, a smaller number board (1−50) can be found here. This makes the mental calculations much easier, without watering down the mathematics. Discussing better moves that could have been made and sharing mental strategies can improve the quality of the activity.
Multiplication Game 4
...and Mathsticks.com have come up trumps again with this fantastic game. We all know what a great game the classic 'Battleships' is! Well, here's a game based upon it (with the added bonus of being able to practise multiplication facts) called Multiplication Starships. Be aware that in step 2 of the instructions, it states 'the product of and two multiples'. This should actually read 'the product of and two factors'.
Multiplication Game 5
Another brilliant Mathsticks.com game. Do you like playing 'Top Trumps'? Well, here's a great game based upon this classic: Superhero Top Trumps. It provides a great competitive opportunity to know your multiplication tables.
Bonus Task
Want to win $1 million?
Well, the Clay Institute are offering this whopping prize to the person who solves the Riemann hypothesis. This problem calls on someone to find a pattern in the distribution of prime numbers.
The video below adds further detail as to how you might begin to explore this: