Year 3
Dear Parent/Carer
With all the concerns over the coronavirus outbreak and how this might impact children's learning, we wanted to offer you some ideas to help you continue their education during any potential school closures or absences resulting from self-isolation.
We recognise how difficult it can be to keep children engaged in their learning whilst at home so we have prepared some activities and games which are well-matched to the Year 3 expectations. These can be completed independently (in most cases) or with adult support.

Further suggestions and updates will be shared regularly should the need for an extended period of absence/closure be necessary. Thank you for your support.
The Year 3 Team
Dear Year 3 students,
Here are some games, activities and ideas to keep those brains and skills sharp whilst you are unable to be at school. We look forward to hearing how you've been getting on with them.
Look after yourselves.
The Year 3 Team
Update - 3rd April 2020
Hi everyone. We hope you have all been keeping well at home. We are missing you all very much! Please don't forget that you can contact anyone of us if you have any queries or you just want to say hello. We'd be delighted to hear from you.
Below, you will find the overviews of home-learning activity suggestions for each week, organised into one handy A4 pdf file (just click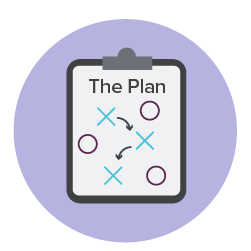 below).
Use the hyperlinks in the document to go to the suggested sites. Underneath each plan, you will also find the resources mentioned in the overview. If you wish to look back at the suggestions for the week beginning 23rd March, these can be found further down the page.
Have a safe week!
Learning Suggestions: 23rd March 2020
Bug Club
Additional books have been allocated for all children. Please read and complete the comprehension activities linked to each book.
Mathletics
Tasks have been assigned for all children. Please complete some of the assigned tasks as these are linked to class lessons, as well as using the interactive activities. Parents, you can read some guidance on how to get the best out of it here.
Also find lots of maths activities at https://www.bartley.hants.sch.uk/learning/maths-zone/maths-links
Reading
Enjoy reading as many books as possible. We would love to see some exciting book reviews that you could share on your return.
Literacy
Watch this film clip about meerkats. Create a story map and then write a diary as though you are one of the meerkats. Talk about the adventures that you had that day.
Maths
Practise telling the time- perhaps quiz your parents!
Continue to work on your 3x, 4x and 8x table. You could use the website "Hit the Button" as a fun way to do this.
To help learn your timestables, visit https://www.timestables.co.uk/
Also. visit https://urbrainy.com/mtc to play some games and improve your times tables knowledge!
Spelling
Week 5

Week 6

minute

natural

notice

often

opposite

ordinary

perhaps

popular

possible

potatoes

probably

promise

quarter

regular

sentence

special

straight

strange

strength

surprise
Spelling activites.
Use your spelling strategies to learn your words eg. Pyramid words.

Put each word into a sentence.

Look, Cover, Write, Check.

Write a dictionary definition for each word.
Create your own crossword or word search
Exciting Project on the Victorians!
Please read the following suggestions and tasks that it would be great for you to do in preparation for our Victorian topic later in the year.
Either using books or the internet (or family members!), create a fact sheet about Queen Victoria.
Read "A Chimney Sweep's Day" (Into the Dark)" on Bug Club and find any other information you can about chimney sweeps. Then create a diary entry in the role of the chimney sweep. E.g. You have returned home after an awful day at work, describe how you are feeling about your day in your diary.
Read "Poor Victorians (The Pickpocket)" on Bug Club and then create your own information page with the facts you've learnt about the Victorians. This can include pictures.
Create some Art- either a drawing or painting- of any artefacts, Victorian buildings or Queen Victoria herself! It could be a very detailed sketch of Queen Victoria's crown.

Create an Industrial Landscape based on the artist, Lowry. You could use sketching, painting, collage or printing.

The Victorian's invented many things including the Steam Engine and Bicycles. You may wish to create some Art based on these inventions.
Helpful websites
https://www.theschoolrun.com/homework-help/victorian-era
https://www.bbc.co.uk/bitesize/topics/zcjxhyc/resources/1