Contents
Welcome Message

Current Governors

Committees and individual governors responsibilities

Overall responsibility of the Governing Body

Governing body meetings
Welcome
On behalf of the governors of Bartley CE Junior School, welcome to the Governor section of the schools website. We hope you find it easy to use and informative.
The role of a governor is not to manage the school from day to day, that is down to the Headteacher and Senior Management. The role of the Governing Body has three core functions.
They are:
to ensure that the school has a clear vision and strategic plan going forward

to hold the Headteacher to account for the educational performance of the school, its pupils and its staff.

to oversee the financial performance of the school, ensuring we get good value for money and stay within budget.
We also recruit and performance manage the Headteacher, develop,maintain and review the schools policies, ensuring that the school meets its statutory targets. An objective, dispassionate and independent ear is also available to all in the school community.
The Governing Body comprises 16 members, in 5 different categories, 6 if you include the Headteacher.
The categories are (number of each in brackets):
Staff (1)
Local Authority (1)
Parent (2)
Co opted (7)
Foundation (4)
Each Governor has their own individual area of responsibility, in which they visit the school regularly to ensure that the school is progressing in that area.
The full Governing Body meet at regular intervals throughout the academic year to discuss the schools overall position. In addition, there are other more specific committees that meet regularly to manage their given areas. These committees and their make up are listed below.
Your schools Governing Body is made up of volunteers from the community who believe that every child is important and should be given the chance to realise their full potential, academic, sporting and social.
A POSSE AD ESSE *
Mark Oakley
Chair of Governors
* from possibility to actuality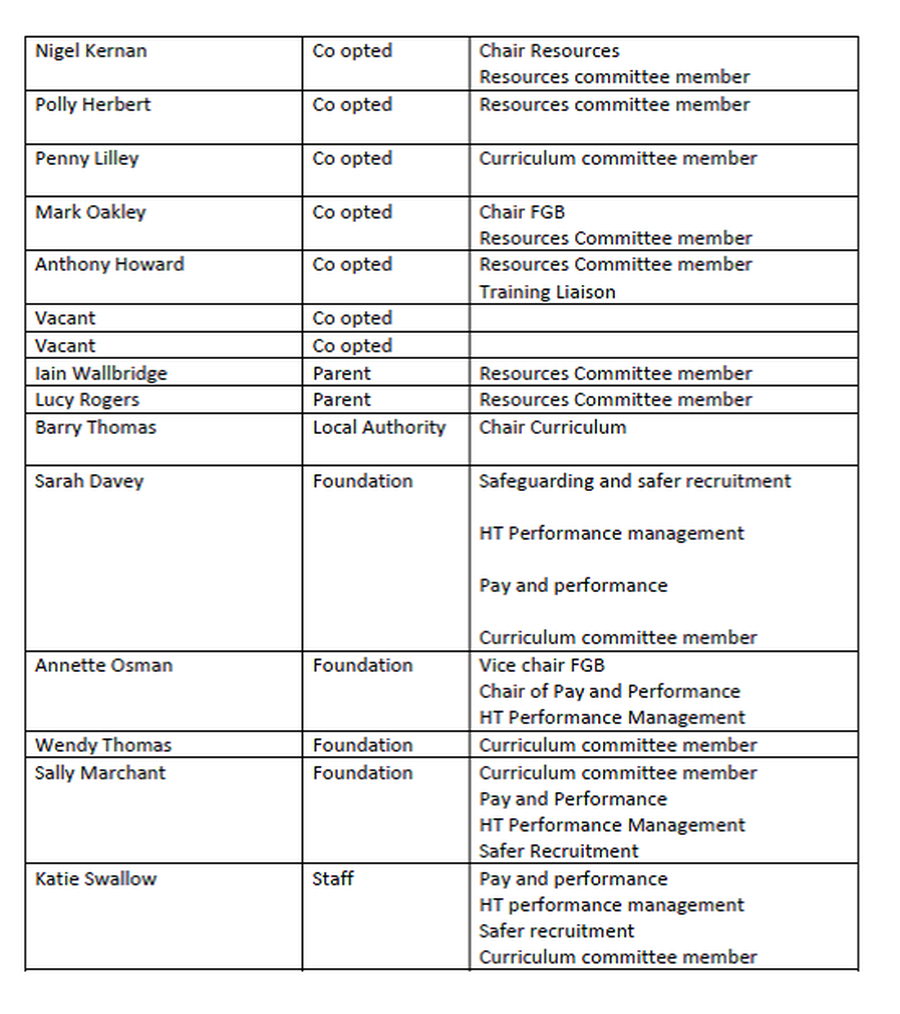 Resources Committee
Nigel Kernan Chair
Mark Oakley Vice Chair
Polly Herbert
Anthony Howard
Iain Wallbridge
Curriculum Committee
Barry Thomas Chair
Sarah Davey
Annette Osman
Lucy Rogers
Penny Lilley
Katie Swallow
Sally Marchant
Wendy Thomas
Overall responsibilities of the Governing Body
The Governing Body provides:
strong links between the school, parents and the community

a wealth of experience from outside the school

an indépendent view

accountability for the Headteacher and school staff

accountability to the parents and the community for the use of resources and the standards of teaching at the school

support for the headteacher and staff

a team providing long term support for development and improvement
Additionally, individual governors will usually be involved in some of the following aspects of the schools activities, and report back to the FGB
School improvement plan

Head teacher performance management

School profile

Staff appointments

The financial management of the school

Pupil discipline

The curriculum

Training of governors

Community links
Governing bodies are the strategic planners of the school in order to do this they
Have an operational manager (Headteacher) who is responsible for the day to day management of the school

Agree policies and practice which allows the headteacher the necessary tools to carry out his/her responsibilities

Agree improvement targets

Review long term resourcing needs

Support and challenge the Headteacher

Review its own working practices and perform self evaluation
Full Governing Body meeting dates and individual governor attendance
Academic year 2016/17

Spring term
14th March 2017
Summer Term
23rd May 2017
4th July 2017