Christian Ethos
BARTLEY C E JUNIOR SCHOOL CHRISTIAN VISION:
'Think for yourself, act for each other'
At Bartley C of E Junior School, every child, through nurture, support Christian Values and challenge will achieve their best both academically and socially.
OUR VISION
Within a Christian ethos, we aim to create a happy, caring community where high standards of teaching and memorable learning experiences enable all our children to develop the skills and knowledge they will need for life-long learning.
'Start children off on the way they should go and even when they are old, they will not turn from it.' Proverbs 22:6
Our Christian values will foster love for ourselves, each other and serve our community.
The school community has agreed on the Christian Values:
Love is our overarching value.
Year 3: Friendship
It is important to teach the children, through the retelling of the Bible stories, the responsibilities, challenges and joy that friendship can bring. This is demonstrated through the self-giving life of Jesus and the relationships that he had with his disciples. This gift of friendship underpins the relationships our children enjoy within our school.
(Ecclesiastes 4 verse 9: Two people are better than one, because they get more done by working together. If either of them falls down, one can help the other up).
Year 4: Trust
Faith means putting yourself in the hands of another in the hope that they will not let you down (or ourselves). Trust is being reliable and not letting others down. Sharing trust is ultimately better than living in doubt and suspicion.
(Psalm 56 verse 3: When I am afraid, I will trust in you).
Year 5: Thankfulness
Christian thankfulness helps us to appreciate all the gifts that have been created for and given to us; including the teachings of Jesus and how it helps us to live our lives. We make the most of those gifts by sharing them and appreciate and value the gifts of others.
(Thessalonians 5 verse 18: Give thanks in all circumstances; for this is the will of God in Christ Jesus for you).
Year 6: Responsibility
Through faith, we take responsibility for ourselves and others, to stand up for what is right, as modelled by Jesus. Having an individual and collective responsibility for the wider community. We are responsible for acting in a way which encourages a positive contribution to society.
(Ezra 10 verse 4: Arise, for it is your task, and we are with you; be strong and do it).
The balance of our values:
Love is ultimately at the heart of all we do.
Responsibility and thankfulness describe how we personally should act as people in the world.
Friendship and trust describe what we most want for our community.
Children develop the skills, knowledge and personal qualities that will enable them to be confident, successful learners and responsible citizens throughout their lives. This vision is driven through our Christian Values with a strong focus on Love as the over-riding value for our everyday practice.
Nativity Walk
The whole of Bartley C of E School have had an amazing time this week visiting the fabulous Nativity Walkthrough at Lyndhurst Baptist Church.
A massive thank you to Paul Burnish and his incredible team of actors and helpers for making us feel so inspired and welcomed.
A really special thanks to Sarah Fitzgerald, from Sassy's in Lyndhurst, for the incredible donation to cover the cost of the coaches which meant this whole memorable learning experience was absolutely free!
The children and staff loved it and it was a timely reminder of the story of Christmas.
Prayer Day
We had a prayer day to help to further deepen our understanding of Prayer and the forms that it can take.
We all took part in four activities:
Big Questions - where the children could write any question that they liked that would ask God.
Pray for the World - the children were encouraged to write a prayer based on something from around the world.
Spirituality - a quiet moment with a candle for the children to be still, think and reflect.
Prayer from the heart - the children had the opportunity to write a prayer for someone or something important to them.
Nativity Walkthrough
At Christmas, the School's Council visited Lyndhurst Baptist Church. Reverend Burnish took the children for a walk through the story of the Nativity. We met real live characters from the Bible (including a very grumpy Innkeeper) and got to investigate each different scene. It was brilliant and we can't wait to go back next year with another group of children.
Visiting St. Mary's Church
We often visit St. Mary's Church for services or to learn about the different aspects of church life.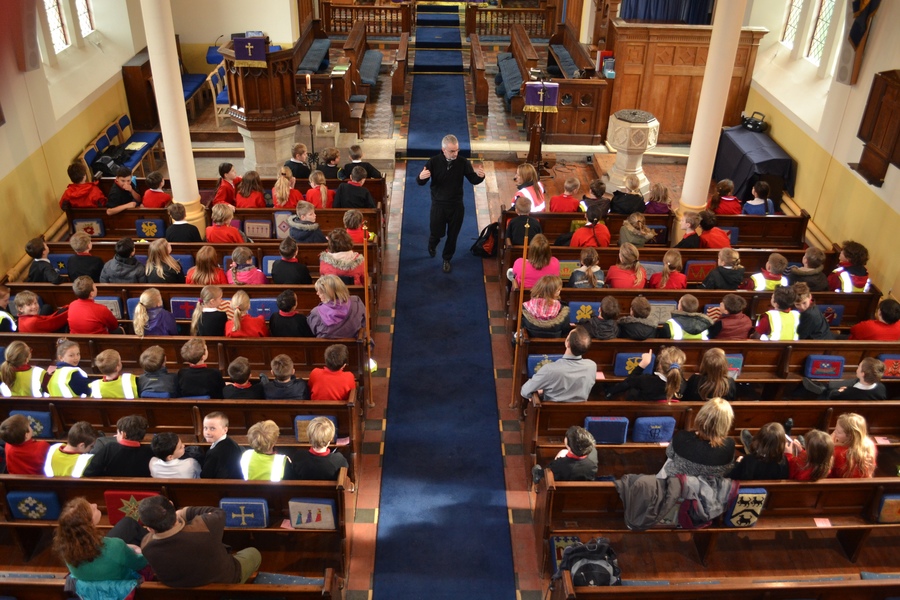 Each classroom has its own Worship Window. This is a focal point for any thinking or reflecting that the children would like to do. It has our School Prayer, the Lord's Prayer, a candle, our Terms of Union, The Bible and a basket to put any prayers or thoughts into.
Bishop Jonathan visited to help us celebrate 40 years of being a church school.
Bishop Jonathan Frost came to visit school to help us celebrate 40 years of being a church school. He led Collective Worship and then came and visited our classrooms. It was fantastic to have him in school and he was very kind and friendly.