"The more you get set into your own world, the smaller your world becomes." J.R Rim
INTENT
Our intent at Bartley is that RE encourages an open-minded approach through which pupils learn to respect and value the opinions and beliefs of others, appreciating similarities and differences, as well as learning to express their own viewpoints on important issues. We aim to foster an attitude of fair-minded and empathic enquiry towards the whole range of religious and non-religious convictions, alongside developing an awareness of the spiritual dimension of life. Ultimately we want to enable pupils to express and develop their own beliefs and values.
IMPLEMENTATION
Religious Education is often taught as a blocked phase of lessons within one week each half term. There are twenty-four RE topics covered at Bartley Church of England School. Four of the six units for each year group focus on Christianity. Our school adopts the Living Difference syllabus which is based upon the understanding and responding to key concepts within major religious traditions and non-religious beliefs. In years 3 and 4 children study Christianity and Hinduism and in years 5 and 6 they study Christianity and Islam.
LONG-TERM OVERVIEW
MEDIUM-TERM OVERVIEW
Bartley Church of England Junior School is committed to the encouragement of an open-minded approach through which pupils learn to respect and value the opinions and beliefs of others, as well as learning to express their own viewpoints on important issues. Therefore, their studies will acknowledge the fact that the religious traditions in Great Britain are mainly Christian, but also take into account the teaching and practices of other principal religions represented in the country. For Christianity we use the resource Understanding Christianity which aims to see pupils leave school with a coherent understanding of Christian belief and practice. Pupils explore the significant theological concepts within Christianity as part of developing their wider religious, theological and cultural literacy.
For the Hindu faith and Islam we follow Hampshire's Living Difference IV (2021) curriculum. This syllabus is committed to an education that takes seriously the importance of children and young people exploring their own lives and world views. This is in relation to what it can mean to live with a religious orientation on life and other ways of life, including those informed by a non-religious perspective, and to engage with this intellectually. It is intended to provide the basis of good teaching in religious education and, as a result, be open to the plurality of ways in which people live within our local and national communities and the world.
The Concept Cycle
Living Difference IV approach to teaching religious education will always begin with the teacher finding interesting ways to bring the concept/word alive for children and young people.
The journey around the cycle of enquiry then usually moves into the Communicate step where children and young people are introduced to the concept/word and invited to share their experiences in different ways.
At the Apply step the teacher opens up the classroom conversation so that children and young people can become aware of the experience of others, beginning with those in their class. The teacher then introduces the material and additional vocabulary to be encountered and studied, usually at the Inquire step. Here children and young people engage with the dimensions, manifestations, words and concepts of religious traditions and practices.
Living Difference IV is interested in the lived experience of what it means to live a life with a
religious or other orientation, therefore formal study of a tradition or other way of life will always include living examples or case studies where the material studied can be seen in real life context(s). These are introduced at the Contextualise step.
Children and young people begin to discern value at the Evaluate step. This happens in two ways. First, value is discerned for those living within the context studied. The second part of the Evaluate step is where children and young people are brought to discern the question of how the material encountered and studied might matter in their own lives.
RE Curriculum
The curriculum overview for the school reflects that 4/6 of the RE units in each year group focus on Christian beliefs, with 2/6 on another key religious belief (Hindu faith and Islam). Each unit of work is based around a key question or 'big idea' which children explore through a cycle of enquiry called the Concept Cycle.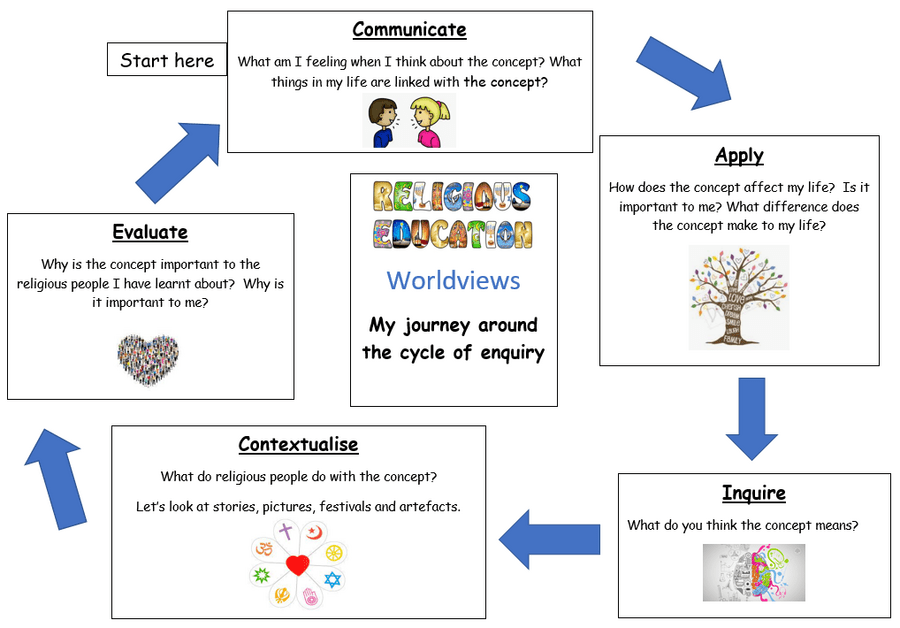 Understanding Christianity
For our units of work on Christian beliefs, one of our resources is this amazing artwork called The Big Frieze, by Emma Yarlett. She created a wall frieze to
illustrate seven of the eight core concepts that are explored in the Understanding Christianity materials. Effectively, this presents a view of the 'big story' of
the Bible – an artist's response to the approach used in the Understanding Christianity materials.