Chair of Governors welcome
It is my privilege to welcome you to our wonderful Bartley CofE VC Junior School
set in the New Forest.
Having been a member of the Bartley Governing Body for a few years, I am delighted and somewhat humbled to have been elected as the chair, a role that will enable me to lead a team of dedicated governors, all of whom serve this community in a voluntary capacity. I also look forward to working closely with the Senior Leadership of the school, Miss Stonehouse and Mr Hodge and their professional and enthusiastic staff. Our joint roles and overall responsibility will always be to lead and manage School Improvements that will impact on every child in our care.
My professional background is that of a secondary and Further Education Teacher and latterly as Senior Leader in the educational sector. I have held positions as an interim Head of a church school and as a vice principal of what became a very successful CofE VA Academy. It was very demanding work but also extremely rewarding to see the improvement and success that emerged to benefit the students and community.
The children will always be at the heart of this governing body's focus and decision making.
I am passionate about the importance of education for children and young people. Education encourages each child to develop as a unique individual and become a good citizen with social awareness and responsibilities to serve the common good.
Not least, educational achievement is the key for each young person to fulfill their own God given potential that will enable them to achieve future success and opportunities. I am constantly impressed by the wealth of opportunities offered to your children and their enthusiasm to make the most of them. Bartley also prides itself on the quality of its teaching and learning; creative, enjoyable and challenging lessons that help each one of your sons and daughters to develop a love of life-long learning enabling them to make good decisions in life.
'I have come in order that you might have life - life in all its fullness.' John 10:10
Visitors always comment positively on the friendly, happy and purposeful atmosphere which characterises our community. Our children feel part of the Bartley family and are proud of their school which is inclusive and deeply caring. Our Christian ethos as a Church of England Voluntary Controlled School is a fundamental and deeply embedded component to life at Bartley.
LOVE
Friendship Trust Thankfulness Responsibility
These Christian values underpin the culture, behaviours, relationships and spirit of the school.
Thank you to our many friends and families for your continued support and prayers. Your valued contributions really do help us to make a difference to the young lives that we serve.
My very best wishes,
Annette Osman MA(Ed), NPQH, Cert Ed
8th March 2018
Contents
Our Statutory Responsibilities
Governing Body Constitution
Governor Vacancies
Register of Governors
Governor Committees
Governor Register of Business & Pecuniary Interest
Governor Register of Attendance at Meetings
Governor Code Of Conduct
Governor programme of Training and Development
Governors as Strategic Leaders of Bartley School
7C's of Competent Governance
Our Statutory Responsibilities
Our core roles as a corporate governing body, to meet our statutory responsibilities towards the school are:
Ensuring clarity of vision, ethos and strategic direction
Holding the Head Teacher to account for the educational performance of the school and its pupils and the performance management of the staff
Overseeing the financial performance of the school and making sure its money is well spent, that we get good value and stay in budget
Governor Vacancies
Using our Governor Skills Audit as a guide to future recruitment, we have identified the need for motivated individuals with skills and interests in any of the following areas to join us:
Legal matters, Human Resources, Monitoring
To apply, please contact HIAS Governor Services who will issue an application form for completion.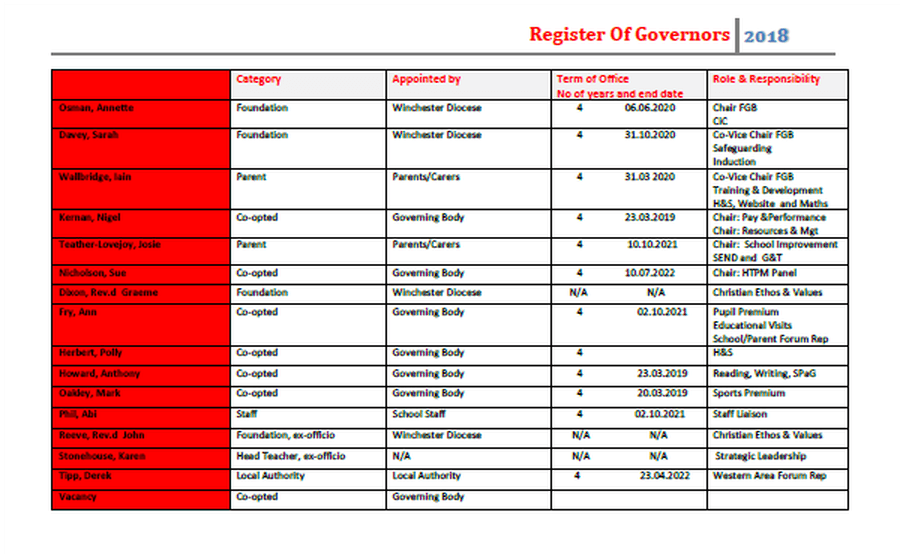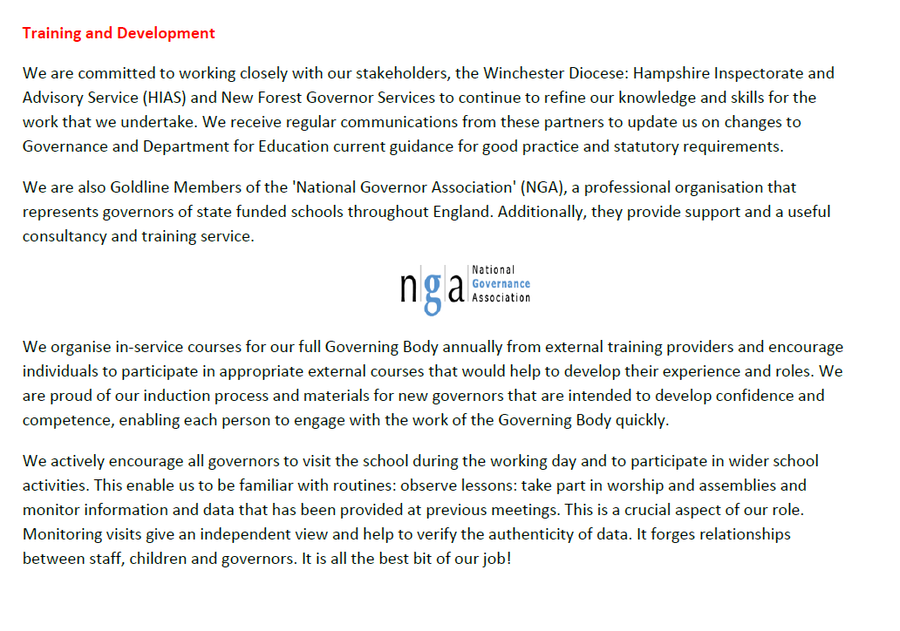 7c's and Competencies for Governors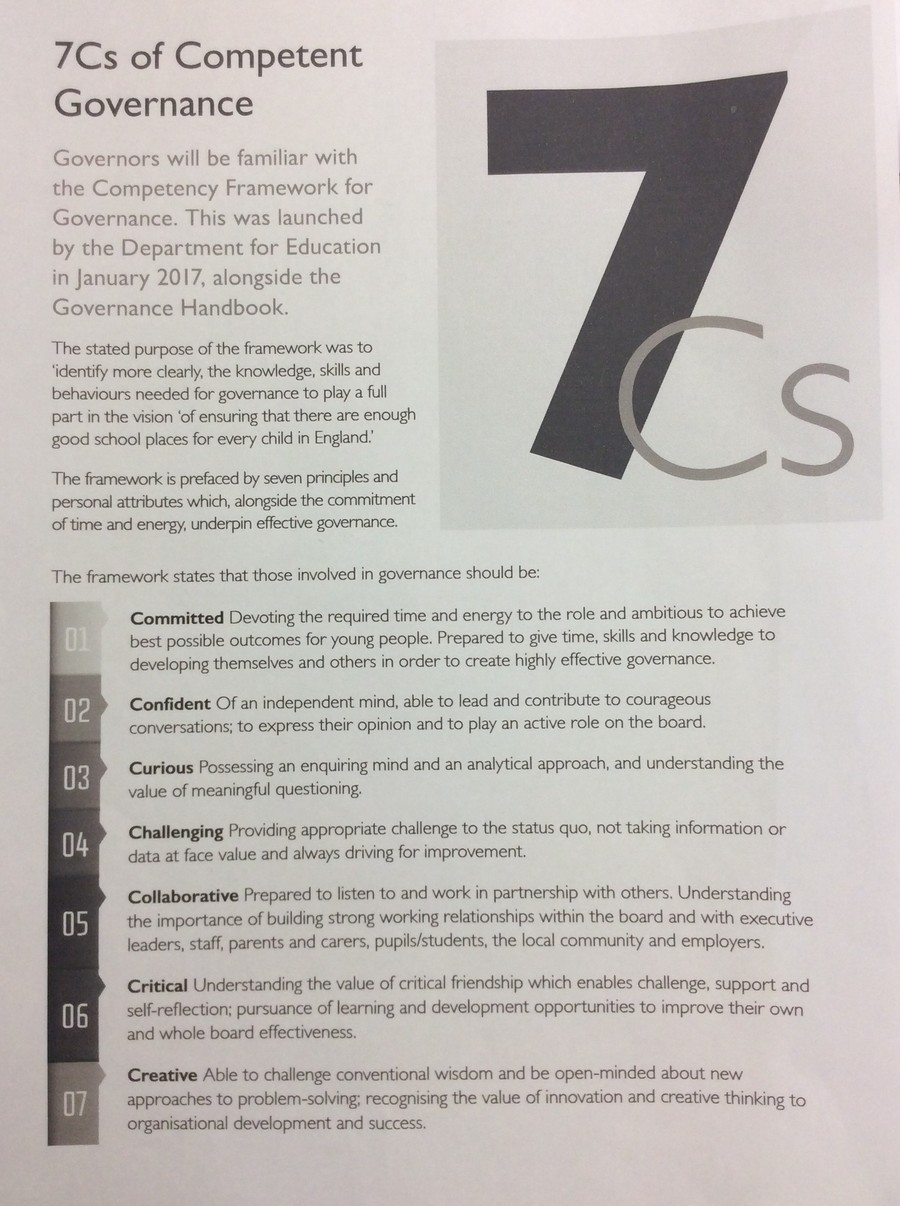 Code of Conduct for Governors at Bartley
Governance of schools is a role that has evolved significantly over time. It is a demanded yet rewarding role and the commitment needed from individuals and as a team are high. We seek to ensure that all Governor colleagues have an understanding of the expectations on them as part of the Governing Body team. Therefore we ask Governors to individually and corporately sign up to a code of conduct which will assist them in understanding these expectations. The code of conduct also acts as a tool to measure against when difficult conversations are needed.