School Uniform
SCHOOL DRESS
The school expects all pupils to wear the correct school dress uniform as this encourages a sense of belonging. We ask for parent co-operation in ensuring that pupils are suitably dressed, so that high standards regarding school uniform continue.
School uniform consists of:
Black/grey trousers, or tailored knee length shorts
Skirts, tailored shorts and skorts need to be knee length

White/red polo shirts/white shirts or blouses
Red/black sweat shirts, cardigans or jumpers
In summer, children may wear a red and white dress
Sensible black school shoes or boots, (for safety reasons pumps are not permitted), trainers are not permitted as day shoes - including Converse trainers
Trainers for PE should be black
Plain white, black or grey socks
No expensive smart watches with cameras
No dyed hair
All clothing needs to be marked with your child's name. Lost and unmarked items are placed in the lost property area located by the office. Children are not allowed to wear jeans to school.
For Physical Education, your child will need:
shorts and red, white or black T–shirts (T shirts with sleeves, no strappy tops)
track suit/sweatshirt and jogging bottoms for winter games' sessions (no football strips)
trainers for outdoor games' sessions (plimsolls, converse trainers or baseball boots are not appropriate for junior school games and PE activities)
swimming costume and towel (summer months only)
In winter it is important that children are provided with a warm tracksuit for outdoor games. Children are permitted to change into training shoes for outdoor breaks but we request that these are not worn to school.
We request that for safety reasons, children do not wear hair fashion accessories such as hair extensions or braids. Any hair bands should be plain in the school colours.
Coloured hair is not permitted.
JEWELLERY
No jewellery, apart from watches and sleepers or studs in pierced ears only, should be worn to school. Jewellery should be removable by your child for all physical education activities and the child must take responsibility for their own possessions. No expensive fit bits or smart watches with cameras.
Children are also not permitted to wear makeup or nail varnish.

A full range of our school uniform are held at Skoolkit and Kool Skools.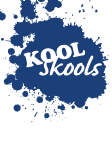 We have a large selection of good quality second-hand uniform available in school for a donation of £1.00 per item. Please ask at reception.