PSHE
(Personal, Social and Health education)
Sponsored Spell for Nepal!
Many of Year 3 used their end of term spelling test as an opportunity to raise some money for stationery at our link school in Nepal where there has been bad flooding this summer. We have also donated some of our old dictionaries to help them in their English studies for especially the older children at the school. All will go directly to the school with the local charity Adventure Aid UK in October.
Culture Club took us to the Caribbean!
To get us in the summer holiday mood, we had a revival of our Culture Club with a Caribbean themed lunchtime, listening to reggae, trying fruit punch and seeing how low we could limbo dance!! Very impressive athleticism from Year 3 up to Year 6!
Remembering Manchester
After the tragic events in Manchester, we wanted to emphasise how we want our world to be and what we can be like individually and to each other.
We used the Manchester symbol of the bee and decorated them with our 'Be...' messages and colours and hung them along the school gates.
Hanging our 'Bee' messages on the school gates.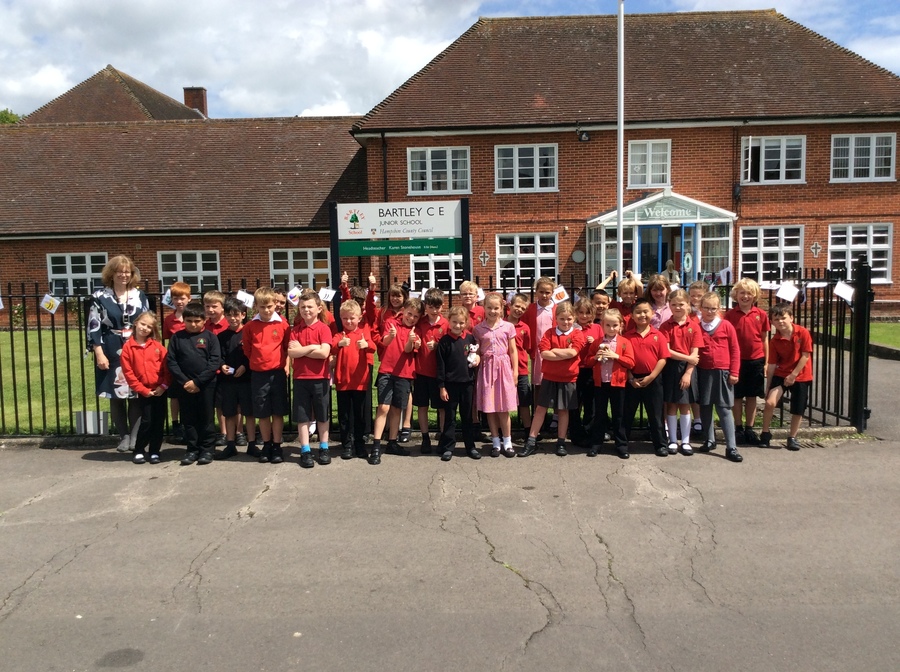 PSHE Day - Anti-bullying
The whole school shared the importance of helping each other and speaking out if they notice any type of bullying being a BABS or BAS (Bartley Anti-Bullying Super-heroes!) as part of our PSHE Day. We were reminded of our Bartley Anti-bullying pledge (see below).
In the afternoon, we joined together in our houses and played several team-building games with all the different year groups from parachute games to slam dunks!
Bullying is ….
Bullying is hurting someone on purpose more than once
Hurting my body or by mean words.
Face to face or through the internet.
It can make people feel sad and helpless.
Bartley is anti-bullying!
I am anti-bullying!
Bartley's Anti-bullying Pledge
This is for me…
…my friends today…
And my friends tomorrow.
I think being mean again and again stinks…
I won't watch someone get picked on
Because I am a do something person…
…not a do nothing person.
I care.
I can help change things.
I can be a leader.
In my world there are no bullies allowed.
Bullying is bad…
Bullying bites…
Bullying bothers me…
Bullying is not Bartley!
We are Bartley Church of England Junior School
And we won't stand by…
We will stand up.
Road Safety
Well done to everyone who took part in Walk to School Week this year! Remember, if you are walking home from school or the bus stop, stick to the pavements and always keep your eyes and ears open for traffic.
We had a visit from one of the Hampshire County Council Road Safety team who gave our Junior Road Safety Officers some further ideas of how to promote safety in and around the school.
Letters from and to our friends at school in Nepal!
Year 3 and Year 6 have been reading the letters from our friends in Nepal and have realised that we have just as many things in common with them as different. For example, many of them like football just as much as we do! Ash from Adventure Aid UK who helped us link with the school is currently in Nepal and has taken our reply letters to our friends to continue finding out more about each other.
In the meantime, many in year 3 used their 'Golden Time' to learn how to speak and write common phrases in Nepali. The alphabet is amazing!
Stay Safe - Be Seen
There was a fantastic response to the challenge to design a T shirt to promote road safety and particularly as part of the winter months to wear bright clothing to be seen. The winner was Hettie Wilkins from year 3 who has won herself a T shirt with her design on. Congratulations to everyone who entered for their creative and thoughtful ideas. Keep safe on the roads!
PSHE Day - Send my Friend to School in Nepal with a Bag!
Our PSHE day focused on the 37 million children unable to go to school because of emergencies such as war and natural disasters.
Part of our day was dedicated to a one mile run with a rucksack to raise money for rucksacks and stationery for specific children in Nepal, going to temporary learning centres following the earthquake there last year. Children were asked to bring in £1 for the day and as much sponsorship money as possible.
So far we have raised an amazing total of £1232.72 - that is the equivalent of over 72 rucksacks!
Year 3 and 4 wrote letters for the children that will receive them in October and Year 5 and 6 have written letters for our local MP to urge the UK and other countries' leaders to give more to help children receive schooling even in emergency situations. The good news is that that a new fund has just been created globally that the UK is contributing to for this purpose! Well done to all of you for the effort you put into the day.
Sawubona! Welcome to Project Zulu at Bartley!
An amazing experience was had by all from the visit of the South African children connected with Project Zulu. Years 3, 5, and 6 had workshops with the children learning how to sing and dance with them including the infamous gum boot dance (see Year 5 pages!). The children loved getting to know each other in lessons and on the playground. The day culminated with a whole school collective worship that the children and staff will never forget as it was STUNNING!
For more details of the project see http://projectzulu.org/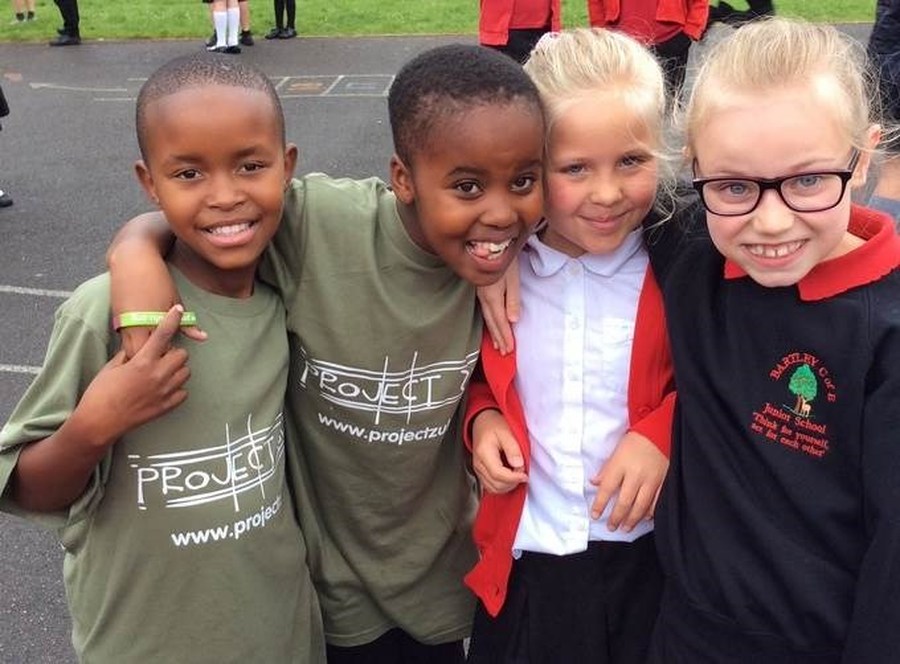 Burns 'night' at Bartley and Chinese New Year
We had tickled our taste buds recently in our lunchtime Culture Club trying and 'addressing' a vegetarian haggis like at a Scottish Burns Night.
Ye Pow'rs, wha mak mankind your care,
And dish them out their bill o fare,
Auld Scotland wants nae skinking ware
That jaups in luggies:
But, if ye wish her gratefu prayer,
Gie her a Haggis

(Translation: You powers, who make mankind your care,

And dish them out their bill of fare,
Old Scotland wants no watery stuff,
That splashes in small wooden dishes;
But if you wish her grateful prayer,
Give her [Scotland] a Haggis!)
We have also tried prawn crackers and using chopsticks to eat crispy seaweed as we looked at different Chinese New Year decorations.
新年快乐 (Happy New Year!)
Competition against cyber-bullying
All children had the opportunity to take part in a national competition to design a poster, poem or story against cyber-bullying. Below is one of our entries by Alice Robertson in year 5. This has linked in well with the e-Safety lessons that take place in the school as part of our computing learning.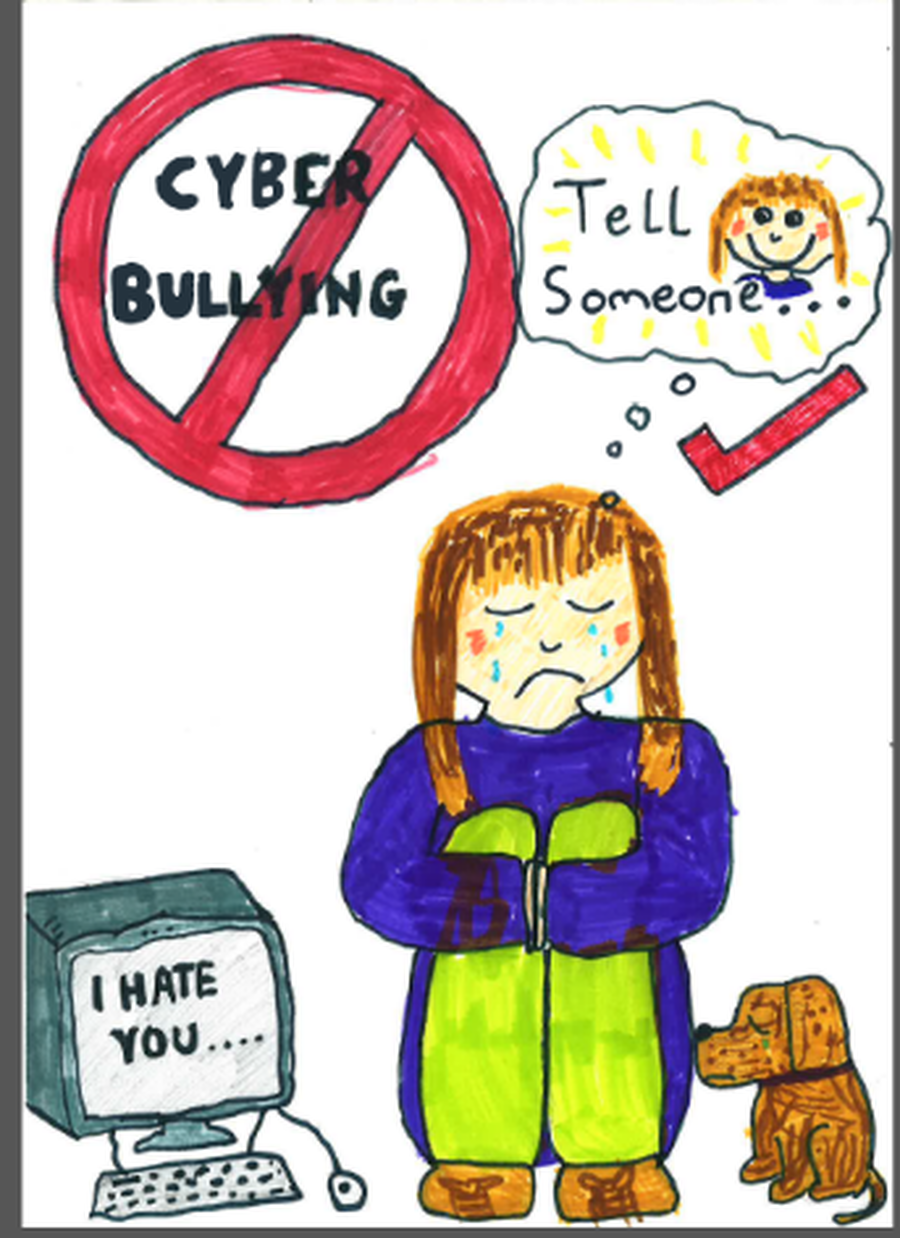 Road Safety Week - Drive Less, Live More!
Did you know that 4 out of 10 car journeys are less than 2 miles?
In the last week of November, our Junior Road Safety Officers from year 5 and 6 issued a challenge to walk, cycle, jog, swim as much as possible and in particular to try and avoid as many car journeys.
We issued certificates for those that did so the most in their class and awarded pedometers to the top 2 in the school who were Pru Short and Daniel Williams who walked, swam , ran and climbed over 26 kilometres!
Many thanks to the Junior Road Safety Officers that created the ideas and helped organise the week: Anna, Beth, Lola, Alisha, Aiden, Joseph, Lily and Daniel!
The World's Largest Lesson
On September 25th 2015, 193 world leaders committed to the Global Goals for Sustainable Development. 17 goals to achieve 3 essential things in the next 15 years:
End extreme poverty.
Fight inequality and injustice.
Fix climate change.
During October, each class, year group and the whole school learnt about the goals and we have created a video montage of what the goals are all about so we can all start doing something about them!
PSHE Day - Send a Friend to School
We learnt about the 58 million children who still do not go to school for reasons such as war, transport or just the fact they are girls.
We wrote to our local MP urging him in our letters including ones in the shape of us as world leaders to ensure that the government supported the 2015 review and agreement of the new Global Goals for 2030 to make sure every one is able to go to school and receive a quality education.
Makutano Junction
Year 5 took part in an inter-schools and EU project on various PSHE themes linking to life in Kenya and a soap opera called Makutano Junction. They joined in with a workshop to review some of the key themes.